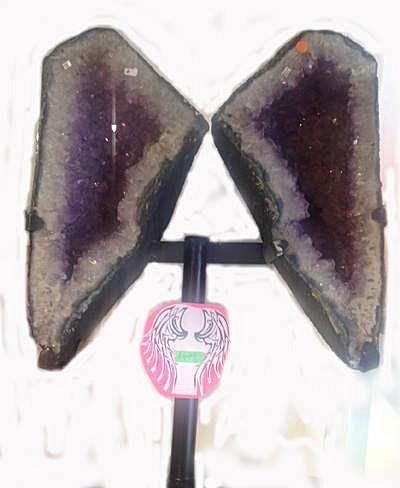 Angel Wing Amethyst Geodes
Matching pair of Angel Wings Amethyst Geodes on a stand.

Size of each wing : Height 32cm X Width 16cm X Depth 9cm

Source: Minas Geras, Brazil

Cost £499 inc stand.
Amethyst is a violet variety of quartz. (SiO2)
Called the "All-healer," Amethyst is one of the most effective crystals for Healing.
Amethyst protects against psychic attack, paranormal harm or ill-wishing, and returns the energy back to the universe after being transformed into positive, loving energy.
Referred to as "nature's tranquilliser," Amethyst calms and soothes, assisting the transmission of neural signals through the brain. It relieves obsessive-compulsive disorder and hyperactivity in children and animals. 
To read more on Amethyst click here.